Professionalism - National Board Certification
---
National Board Certification (NBC) is an advanced teaching credential and a challenging professional development experience offered by the National Board for Professional Teaching Standards (NBPTS). It complements, but does not replace, a state's teacher license.
National Board Certified Teachers are highly accomplished educators who meet high and rigorous standards set by the National Board for Professional Teaching Standards (NBPTS). Kentucky currently has more than 3,000 NBCTs.
To seek National Board Certification (NBCTs) you must meet the following requirements prior to applying:
Hold a bachelor's degree
Have completed three full years of K-12 teaching/counseling experience
Possess a valid state teaching/counseling license
Visit the NBPTS website for more information.
Kentucky Education Association has been an active and ardent supporter of the National Board and is proud of its support of candidates, NBCTs, mentors and the people who make the program work. We offer support in the form of professional learning opportunities for candidates, Candidate Support Providers (CSPs), and NBCTs getting ready to renew. Contact Beth Shepherd or Michelle Jones for more details.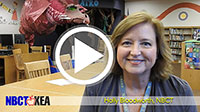 Meet one NBCT teacher, Holly Bloodworth and consider joining the Kentucky National Board Network.
KEA/NBCT training information is available here.
NEA also offers many resources for the candidate considering National Board Certification. Visit the NEA's National Certification web site for answers to frequently asked questions, a candidate's guide, and much more. NEA members may also qualify for low interest NBC loans. Visit the NEA Member Benefits Web site for more details.
---